Who We Are: Our Mission and Vision
Hoover-AHEAD…
We are a group of Hoover residents committed to celebrating diversity and promoting racial and ethnic equity and inclusion through our city, recognizing that every member of our community deserves to feel comfortable, safe, valued, seen, and understood.
OUR MISSION…
To promote racial and ethnic equity and inclusion within Hoover.
OUR VISION…
A Hoover community in which every citizen feels comfortable, safe, valued, seen, and understood.
Our Story
The Catalyst
Emantic ("E.J.") Bradford Jr, a 21-year old African-American man was shot and killed by police the night of Thanksgiving at the Riverchase Galleria in Hoover, resulting in protests and boycotts around the city that generated national attention. During the aftermath of this shooting, very intense race-related discussions surfaced throughout the city of Hoover, bringing many pre-existing biases and attitudes about race to light.
Coming Together
One Sunday afternoon in January 2019, a passionate group of Hoover residents of various racial and ethnic backgrounds, ages, political affiliations, and overall life experiences gathered together to embark upon a new journey. Prior to their first official meeting, most of the group members had participated in discussions about race although in many cases, these conversations were held in the security of their own homes or with people with similar backgrounds and beliefs. The group members answered the call to come together, out of the shadows and from behind their electronic devices, to unify and work together towards a shared purpose. Despite their apparent differences, these individuals found a common ground in their commitment to making Hoover a model community that is welcoming, safe, and inclusive to all.
Our City
The city of Hoover in the state of Alabama is located in Jefferson and Shelby counties, south of Birmingham. This suburban city has around 88,000 residents. The median age is 37 years old and median household income is $79,000. In total, Hoover is made up of 72% White, 17% African American or Black, 5% Hispanic, and 5% Asian residents. The city of Hoover is home to the Riverchase Galleria, large shopping centers, Hoover Metropolitan Stadium complex, excellent parks, youth sports, the Hoover recreational center, the high ranking Hoover City School District, and a modern city library.
Our Team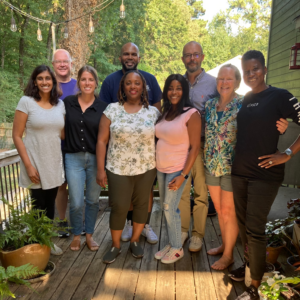 The Hoover-AHEAD Ambassadors serve as the Board of Directors. They meet monthly to plan and strategize how we can better realize our Vision and Mission.
Shilpa Gaggar, President
Cherinita Reese, Vice-President
Dale Tadlock, Secretary
Kristin Powell, Treasurer
Kim Boettner, Ambassador
Ashley Dorough, Ambassador
Tiffany Hawthorne, Ambassador
Reed Lochamy, Ambassador
Withrow Newell, Ambassador
Get Involved
They are several ways you can get involved with Hoover-AHEAD. In addition to attending events and engaging us through our email newsletter and social media, there are two other options for you to consider. We are currently looking for those who will join us at the following levels of involvement…Ally and Associate
Ally
An ally spreads the word about Hoover-AHEAD and supports our mission and core values.
Associate
An ally who attends and helps plan events/activities as an active member of one of our committees or sub-committees.
CLICK HERE to join our E-mail list.
Want to contact us? CLICK HERE to send an email to us.
Take the Pledge
The Hoover-AHEAD Pledge
I pledge to be open to an ongoing transformation within myself and the institutions and structures of our community.
I will refrain from the use of negative, intolerant, and insensitive language and behavior toward others.
I pledge to be open to educating myself on ethnic and racial diversity, equity, and inclusion and share what I learn in my own community.
*This pledge has been adapted by YWCA USA from the Pledge to Eliminate Racism in My Life, YWCA Bergen County which is an adaptation of the Pledge to Heal Racism in My Life, Interfaith Communities United for Justice and Peace, April 10, 2006.
CLICK HERE to stand with us and to let us know you have taken the pledge with us!